What Should You Do if You're in a Car Accident?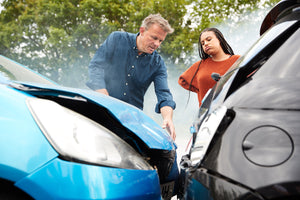 Over six million car accidents occur each year in the United States. If you're ever in a car accident there are certain things you should do to protect you and your interests. This blog post is going to highlight all the important things to do if you ever find yourself in one. 
Stay Put
No matter how severe the accident is, you should never drive away from it. It is your legal obligation to stop anytime you collide with something. By driving away, you are ultimately putting yourself at risk for legal action to be taken against you. 
Also, if possible, stay inside your car after the accident occurs, especially on a busy road or highway. Unfortunately, many cases happen where people recently in a car accident get out of their vehicle and end up getting hit by cars passing by. If you must leave your vehicle, quickly get out of the way of traffic and try to be as far away from it as possible. 
Contact the Police
Even if the accident you're involved in is minor, you still need a legal report to state what happened. The police will assist in this as well as help anybody who is injured and insure that other cars do not interfere with your accident. 
Limit Conversation with other Party
As tempting as it might be to talk to the person you were in an accident with, avoid doing this. It's best to communicate what happened at the accident with the police, medical professionals, and insurance representative. 
Gather the Facts
It's easy to forget this tip because accidents can be very stressful. It's important to get names, addresses, and phone numbers of everyone involved in the accident. If you can, get a description of the car and license plate number, but also make sure to get a vehicle identification number and insurance company. 
You'll also need to collect information about the actual car accident itself. This includes:
Date and time of the accident

Exact or approximate address of the accident

The road you are on and nearest cross street

The direction you were traveling in

The direction the other car was traveling in

How the accident occurred (You can either write this down or record yourself explaining the story. It can be easy to forget details.)

Any notes regarding driving conditions (weather, visibility, etc)

Any witnesses names and their contact information

The name, badge number, and contact information for any police officer who comes to the accident
Take Photos
If you have a mobile phone and it's safe to do so, take photos of the accident as well as any damage. This will be helpful because most insurance companies allow you to submit claims using apps or online. 
Have any Injuries Taken Care of
It's easy to forget about your injuries when you have police officers asking questions and insurance companies needing information. However, listen to the paramedics who are trying to take care of you. Not only are you helping yourself at that moment but you're also helping your future self as well. By not tending to injuries when they first happen, you are setting yourself up for severe damage as time goes on.
Key Takeaways
Getting into a car accident is extremely stressful, especially if you've faced major vehicle damage and injuries. The best thing you can do for yourself is to have yourself checked out by medical professionals and gather all the necessary information needed by law enforcement. 
For more safety tips and information, subscribe to our blog and check out our most recent posts. You can also find quick tips and tricks on all our social media!