Top Safety Tips for a Night Out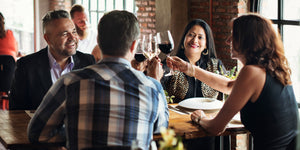 Now that the holidays are approaching and people will be gathering to celebrate the festivities, it's more important than ever to learn a few basic tips to keep you safe. While your night out might be at the forefront of your mind, you want to always be aware and put your general safety. 
To help make it easier on you, we've gathered our top safety tips for your next night out whether it's a company holiday party or a fun Friday night.  
Safety is in Numbers
One of the first things you should remember is safety is in numbers. If you're unfamiliar with the phrase, it essentially means you're safer if you travel with a group of people. Whether you're walking to your car after a long night or heading to the next hot spot, stick with at least one other person.
If you can't travel with another person, inform someone of where you're going and your estimated time arrival. Instruct the person to call the police if they don't hear from you by a certain amount of time. Keep a phone close to you and emergency numbers on speed dial. 
Arrange a Ride
Before you go out you should arrange a ride if you know you will be consuming anything that could hinder your ability to drive safely. These days there are no excuses to drive under the influence, especially with the accessibility of Uber, Lyft, and Taxis. If neither of those options works for you, consider carpooling with someone who will not be drinking that night. 
Watch Your Drinks
Whether it's your first time at a bar or your 20th, you should always know to watch your drinks. Unfortunately, there are people out in the world who take advantage of people who are just wanting to have a fun time. Don't ever let your drink out of sight and if you do, it's better to buy a new one than risk drinking something that could be contaminated with something. 
Stay in Well-Lit Areas
If you're going to an event or possibly walking around, stay in areas with ample lighting and enough people around to keep any predators away. Many women are taught to carry pepper spray or small tazers, but this can be useful to anybody. If your path home or to the next hangout spot includes walking through dark places with no street lights, consider taking a taxi or Uber there instead. 
Keep Valuables Safe
Whether we like it or not, we have to take some valuables with us when we go out. You might be carrying an ID, car keys, or money, which makes you a prime target to criminals. Keep your personal valuables out of sight from strangers and if you're carrying a bag, keep it close to you and don't take your eyes off it. 
If you are driving to your night out, make sure to lock your car properly and avoid leaving out anything that could be considered valuable to a criminal or carjacker. 
Stay Away from Hostile Situations
As nice as it might sound to be the hero of the night, if you witness a fight or unsafe situation, don't get involved. What you should do instead is call the police immediately with a clear description of the situation, how many people involved, and what your location is. 
Key Takeaways
While not all danger is preventable, there are small things you can do to help mitigate potential risks. Everyone deserves a night out but you want to make sure whatever you're doing you should stay alert and remember these basic safety tips. 
For more safety tips, subscribe to the ZenLyfe Blog or follow us on social media!