Snow in the Forecast? How to Prepare and Stay Safe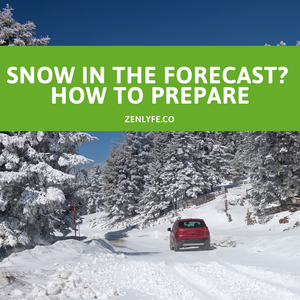 Did you know that 6,660 people died from hypothermia or exposure to cold from 2006 to 2010, an average of 1,320 deaths a year? Every year, people get killed or injured and don't take the necessary precautions to stay safe during blizzards and other winter storms. Here at ZenLyfe, we want to share some easy tips to help you and your family be prepared for winter-related safety hazards. 
Take Immediate Precautions
If you see any warnings on the news for winter storms, blizzard, wind chill, and winter weather advisory, take immediate precautions. These warnings range in severity and estimated start date, but should all be taken seriously.
Preparing for Harsh Winter Weather
If you live in an area that receives harsh winter weather you want to make sure you're prepared during this season. Some steps you can take to prepare are:
Assemble an emergency preparedness kit

Create a household evacuation plan that includes your pets

Stay informed about community response plans

Download emergency apps that give you warnings and track harsh weather
Protect your Family
You should talk to your family about what to do if a winter storm watch or warning is issued in your area. Having discussions ahead of time helps reduce fear for young children who don't understand what's going on. 
Prep Your Car
In the case that you will need to evacuate or use your car to travel, you'll want to prepare your car. First, start by having your vehicle winterized before winter storm season. This helps decrease your chance of being stranded in cold weather. Have a mechanic check your: 
Battery

Antifreeze

Wipes and windshield fluid

Ignition system

Thermostat

Lights

Flashing hazards

Exhaust system

Heater

Brakes

Defroster

Oil
You will also want to install good winter tires with adequate tread. Some jurisdictions require vehicles to be equipped with chains or snow tires with studs. A great tip is to keep your vehicle's gas tank full so you can leave whenever necessary. When it's time to drive your car during potentially dangerous weather, you'll want to keep a few items in your vehicle in case of emergencies. 
Windshield scraper

Small bag of sand for generating traction under wheels or a set of traction mats

Matches

Brightly colored cloth

Emergency supply kit

Set of warm clothing
Prep Your Home
Preparing your home is another crucial step to getting ready for winter weather. The first thing you want to do is make sure you take the necessary steps to protect your pipes from freezing.  Pipes that most frequently freeze are pipes exposed to severe cold like outdoor pipes, as well as water supply pipes in unheated areas like basements and crawl spaces. 
Before cold weather approaches, you'll want to:
Drain water from swimming pool and sprinkler supply lines

Remove, drain, and store hoses used outdoors

Add insulation to attics, basements, and crawl spaces

Consider installing specific products that insulate water pipes

Consider relocating exposes pipes
Once you've made all the initial preparations to your home, you'll want to start stocking up on supplies and emergency equipment. Consider buying a wood, or electric stove, space heater, wood for fireplaces, portable generators, and purchasing flood insurance. You'll also want enough non-perishable foods, warm clothes, matches, and a first aid kit.
Staying Safe During Storms
Most of the damage and safety risks come from during the storms. It is highly advised that you don't try to travel or go outside during harsh winter weather. Listen to a local station on battery-powered radio or television for updated emergency information. Bring your furry friends inside during the storm and make sure they are in sheltered areas with a supply of non-frozen water. Most animal deaths in winter storms are caused by dehydration. 
Key Takeaways
The winter season can bring harsh weather and undesirable conditions. If you take the time to prepare your home, your car, and your family, you are able to mitigate danger and help keep your loved ones out of harm's way.
For more free safety tips and tricks, subscribe to the ZenLyfe blog and follow us on social media!