Should You Rely on Technology to Keep You Safe?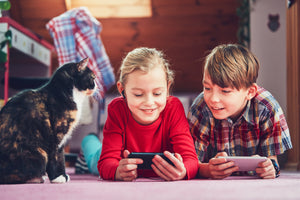 We live in a world that is increasingly dependent on electronics. From cars to computers to smartphones, we engage with technology to carry out countless daily tasks. But what effect does modern technology have on our safety? When used correctly, technology can help keep you, your loved ones, and your property safe. 
Smartphones
The rise of smartphones has fundamentally changed the way we live, and today most people are rarely more than a few feet away from their phones. Smartphones can alert you to danger instantaneously, allowing you to take precautions and protect your safety. Emergency weather alerts, for instance, are immensely beneficial to safety. In the case of severe weather such as flash-flooding, tornadoes, hurricanes, or blizzards, it's critical to stay up-to-date on conditions outside. Other types of emergency alerts, such as AMBER alerts, facilitate cooperation between residents of a particular area to keep entire communities safe.
Driving
Cars, though not a recent innovation, are as ubiquitous as smartphones in today's world. While the popularization of cars in the early 20th century greatly increased the efficiency and ease of travel, it also presented some risks. Throughout the past century, innovations like airbags, seatbelts, and shatter-proof glass have made car travel much safer than it used to be, but they've also presented risks of their own. Thankfully, ZenLyfe offers products that maximize your safety when driving. 
The Smart Car Charger by ZenLyfe is much more than a portable smartphone charger. It's equipped with a seat belt cutter and an emergency window breaker that could save your life in the event of an accident. It also includes a car locator feature, which allows you to get directly back to your vehicle and mitigates the risk of encountering danger on your way back to your car. Plus, it enables you to keep your phone battery full so you never find yourself in a dangerous situation without it! 
The Safe Drive Pal is your complete companion for bringing safety and convenience to the road. It includes the Smart Car Charger (and all it's life-saving capabilities) as well as a phone mount that eliminates the need to look down at your phone while driving and acts as a wireless charger for your mobile phone. (Read more about the "'Swiss Army Knife of wireless phone chargers" and how it could save your life in this blog post!)

Smart Tags
Not only can technology protect your safety; it can also protect your belongings. With the Smart Tag and Smart Luggage Tag by ZenLyfe, you'll never lose track of your keys, luggage, or other personal belongings again. Ring the tag from your smartphone when its nearby to easily find your things (the tag makes a loud and clear noise) or track its location from the ZenLyfe app. You can also find your phone by pressing the tag, even when your phone is silenced!

Home Security Systems
Another way to use modern technology to protect your property is to install a home security system. According to the FBI, "there were an estimated 7,196,045 property crimes" in the United States in 2018, with losses as a result of these crimes estimated at $16.4 billion. While securing windows and doors is important, many burglaries involve forced entry. That means making sure your house is physically secure may not be enough to prevent a break-in. But with the aid of modern technology, home security systems can keep you and your property safe. 
Firstly, many home security systems offer mobile apps that allow you to keep an eye on your property even when you're away from it. The best systems offer features like remote viewing, which allows you to live stream video surveillance of your home on your smartphone, and two-way voice, which allows you to communicate with potential intruders without meeting them face-to-face. 
It's not only the technological features of a home security system that keep you safe; the very act of having a visible home security system can deter potential intruders from targeting your home. And, in the event that an intruder recognizes your home security system and tries to disable it, many systems now include tamper detection, which will instantly alert emergency operators.
Takeaways
Because of modern technology (and innovative products from ZenLyfe!), it's easier than ever before to keep yourself, your loved ones, and your property safe. Looking for more safety tips? Visit our website. Or, to get valuable tips delivered straight to your inbox, subscribe to our blog!