Protecting your Pets from Holiday Hazards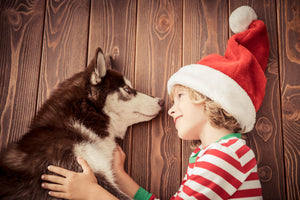 If you're a pet owner, you know that your furry friend fills your heart with cheer. That's why you love to let your pet share in the festivities during the holiday season! But in order to make this month as fun as it can be for you and your pet, it's important to be aware of the dangers it brings. Continue reading to brush up on how to protect your pets from holiday hazards.
Watch Out for Holiday Decorations
Festive decorations are a hallmark of the holiday season, but they can also spell danger for your pet. Make sure your Christmas tree is securely anchored in a stand to minimize the possibility of it tipping and falling on your pet. Similarly, make sure candles are anchored on a stable surface to prevent your pets from tipping them, burning themselves or starting a fire. 
Equally important is keeping wires, batteries, and glass ornaments – which, when broken, can cause electrical shocks, chemical burns, and puncture wounds, respectively – out of reach of your pet. And if you have a kitty at home, make sure any tinsel is inaccessible to them.
Keep Your Pets Away from Plants
If fresh flora is part of your holiday decor, be aware of popular holiday plants that pose a risk to your pets. When ingested, mistletoe can cause both cardiovascular and gastrointestinal problems. Similarly, holly can cause nausea, vomiting, and diarrhea. Worse still, certain varieties of lilies can cause kidney failure in cats and dogs, which can be deadly. And poinsettias, while unlikely to poison your pet, also cause gastrointestinal upset.
It's wise to keep these plants out of paw's reach to avoid costly medical bills and to keep your pet happy and healthy. 
Secure Rooms 
One of the simplest ways to protect your pet is to keep rooms containing hazardous substances off-limits. If you decorate with any of the above plants, for instance, try to keep them contained in a space that you can close off to your pets. 
Medications are one of the greatest hazards to pets at any time of year, but they become especially dangerous when you're entertaining. Make sure guests know which doors are to remain shut, and keep medications secured in a cabinet or drawer out of your pet's reach.
Go Easy on the Pet Clothes
Dressing up your pet can be an adorable way to celebrate the season. And in cold climates, pet clothes can actually enhance your pet's safety and comfort. (For dog breeds with light coats of fur, for example, a winter jacket can make cold weather more tolerable). Regardless of whether you dress your pet for practicality or fun, it's important to do it safely. 
Keep in mind that small accessories pose a choking hazard if swallowed and that scarves can become wrapped too tightly and restrict your pet's breathing. No matter how cute they look, it's always best to avoid clothing that may cause your pet discomfort or harm.
Keep Dangerous Foods Out of Reach
When entertaining guests, be mindful of keeping toxic foods away from your pet. Remember that holiday treats like cocktails, fruit cakes, chocolate, and anything sweetened with xylitol are toxic to pets. It's a good time to brush up on a complete list of foods that are toxic to dogs and cats. 
Be sure to take extra caution this month to protect your pets from holiday hazards. This way, you can enjoy a festive holiday season that you (and maybe even your pet!) will remember for years to come. For more holiday safety tips, check out our recent blog posts!