Kitchen Safety Tips for Holiday entertaining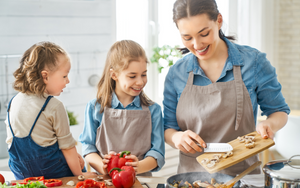 Did you know that accidents in kitchens spike during the holiday season – especially at Thanksgiving? During this time of year, there is a 200% increase in reported fires. This is typical because families are spending more time in the kitchen prepping, cooking, and baking. There's a lot to keep in mind during this season to prevent any unnecessary kitchen accidents. 
Make Sure Electrical Outlets are Up to Code
Whether it's your first time hosting the holidays, or the first season celebrating in your new home, you'll be using your electrical system to its full capacity. Make sure your kitchen outlets are upgraded to GFCI and check all your cords to ensure there are no rips, tears, holes, or exposed wires. 
Buy a Fire Extinguisher and Know How to Use It
Many people have fire extinguishers laying around but you'd be surprised to find out how many people can't locate them or even know how to use them. It's a good practice to keep one on each level of your home, and one stored in the kitchen just in case there are any kitchen fires.
Learn How to Prevent Cooking Fires
Cooking fires are extremely dangerous and not a lot of people know how to put them out. However, it's best to start by knowing just how to prevent them.
Be alert and present no matter what appliance you are using to cook

Don't leave cooking food unattended

Keep rags, paper towels, or other flammable objects away from the range

When frying on the stovetop, keep an extra container of baking soda in your pantry to put out a sudden grease fire. 

If you're deep-frying a turkey, set up the cooking station outdoors and at least 10 feet away from your home and deck. Keep a fire extinguisher outside with you and never leave the fryer unattended. Please use caution when dropping in the turkey and removing it, because spilled oil can cause a fire.
Monitor Appliances 
Most people don't know this but it's advisable to never leave the home while your dishwasher is running. You should time the wash and dry cycle of your laundry for daytime hours so if a fire breaks out, it's not at night when everyone is asleep or gone.
Babyproof the House
Even if you don't have babies, your guests might. Take some time to make your guests with children feel a little safer by removing cleaning supplies that are laying out, heavy objects out of the way, and block off any areas you don't want kids or pets getting in to. 
Learn To Use Knives Properly - And Sharpen Them!
Any decent chef knows to sharpen knives to prevent cooking with dull ones. But, the average homeowner does not typically think twice about it. Familiarize yourself with all knife sharpening methods to ensure all your knives are sharp and safe to use during the cooking season. You'll also want to read up on how to properly use each knife. Don't waste time in the emergency room because you wanted to use a steak knife to cut cheese cubes. 
Take General Precaution
Overall, you want to make sure you use general precautions when doing things that can end in an accident. Look up cooking tutorials, how to use certain utensils, read instruction manuals on new appliances. At the end of the day, taking the extra time to be prepared saves you a lot more time than getting injured and ending up in the hospital.
Here at ZenLyfe, it's our mission to equip you with the necessary knowledge and tools you need to keep you and your loved one safe from all dangers. Subscribe to our Blog to stay informed and follow us on all social media for free tips!