How to Have a Safe New Year's Eve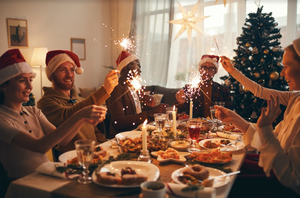 New Year's Eve is tomorrow which means people all over the world are going to be celebrating the transition into a new decade. Some people go out to parties, Times Square, or decide to stay in with friends and family. Regardless of what you choose to do to celebrate New Year's Eve, you want to make sure you're staying safe.
We have pulled together a few simple safety tips that will keep you and your loved ones safe no matter what you decide to do on New Year's Eve. 
Plan a Safe Ride
Before heading out to your New Year's Eve destination, you want to make sure you have a ride planned. This can be a pre-scheduled Uber or a designated driver from your group. If you do decide to pre-schedule an Uber, make sure you're at the location you say you'll be and be cautious of getting into any cars that aren't marked with the Uber or Lyft sign.
If you have a designated driver, be sure they have not had any alcohol to drink that night and are comfortable to drive you and your guests. 
Avoid Using Fireworks
It's tempting to want to start the New Year off with a bang, but avoiding fireworks all together is your best bet. Not only are they a safety hazard in of themselves, adding alcohol and the excitement of a new decade can make for some unsafe choices.
If you must enjoy a fireworks show, look on Google or social media for any events being put together by professionals who have a firework show. 
Don't Leave Your Car Overnight
According to the National Insurance Crime Bureau, New Year's Day is the top holiday for car thefts. It might sound like a safe idea to leave your car instead of driving intoxicated (which it always is!) but you want to avoid leaving your car at all costs. Not only can someone break into your car and cause damage, but they might also be able to access personal information about you and your family.
If you want to avoid this, look at our first tip about scheduling a right before heading out for your New Year's festivities. 
Charge Your Phone
Even if you don't plan on using your phone much on New Year's Eve, you want to have it charged in case of an emergency. The worst thing would be for your phone to die and need help or a ride, and no way to call anyone. 
This is also a great way to have others be able to reach you in case they need you. You should especially have your phone charged and on you if you have children who are going to be with friends celebrating the New Year.
Eat Food and Drink Water
It's no secret that many people like to enjoy alcoholic beverages on New Year's Eve. While we aren't condoning that at all, we are leaving you with our last tip which is to eat plenty of food before consuming alcohol. 
Not only will this help with your intoxication levels, but it can help prevent you from getting sick from drinking heavily on an empty stomach. The same goes for drinking water. The general rule is to have at least one 16-ounce glass of water with every 12-ounce beer or 4 to 6 ounces of liquor. 
Key Takeaways 
New Year's Eve is a day where you and your loved ones get to celebrate together to bring that year to a close and welcome a new one the next day. Follow our tips to help you have a safe night and mitigate unnecessary risks.
For more free safety tips, subscribe to our blog and follow us on social media!