8 Safety Tips for Moving to a New City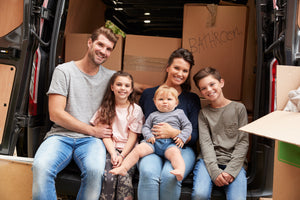 In 2015, there were an estimated 7,993,631 property crime offenses in the nation, so it's no wonder why people are hesitant to move to a big city. In fact, even if you don't live in any of the most dangerous cities in the nation, it's still normal to be concerned about the safety of you and your loved ones. 
Luckily, there are plenty of things you can do to stay safe in a new city and ease any worry. Here are our top tips to help you stay safe when moving to a new city. 
Get to Know the Area
Ideally, before moving to a new city you've had some time to get to know it and explore a bit. What you can do is research the city and neighborhood online to help discover any areas you might want to avoid. A great tip is to also drive your route from home to work, or home to the store to get a better feel of the area. You can also walk around your neighborhood or visit any of the local attractions.
Travel Smart
Once you start navigating your new city, give yourself time to travel; plan your route, stay alert, and try traveling in the daytime. If you are traveling at night, avoid walking in dark streets and alleys. A good tip is to take a trusted friend or family member with you to continue exploring. If taking someone with you isn't an option, tell someone where you're going and when you expect to return.
Download Safety Apps
Odds are when you're out and about you'll have your smartphone. Something that you can easily add to your phone is a safety app to help keep you safe. ZenLyfe will soon be coming out with an app that is your all-in-one safety pal. You can check crime reports for areas you're traveling to, get notified of any immediate dangers, and family members will have the ability to monitor your location. 
Of course, if you ever find yourself in immediate danger, you should dial 911 for help. 
Meet Your Neighbors
If you're moving to a new city alone, take some time to get to know your neighbors. Not only will you feel safer if you know people around you, but you'll also have a support system of people you can trust. 
Learn Self Defense
The ability to defend yourself can come in handy when you're in a dangerous situation or feel threatened. Some great ways to increase your confidence is to take a class to learn some basic self-defense moves. Nothing is worth more than your life, so if you can diffuse a situation or get away, it's best to do this rather than risk your safety. 
Stranger Danger 
You've all probably heard the term "stranger danger" before. Well, even as adults this phrase couldn't be more true. Often we find ourselves trusting strangers because they don't appear threatening or risky. 
Don't feel obligated to stop for someone, loan your phone, or even be nice to a stranger if you feel your safety is in danger. Even if you're from a smaller town where it's normal to do these things, put your safety before being polite.
Protect Personal Property
There are a few ways to go about guarding your personal property. When you are leaving your house, be sure to keep necessary valuables inside your pockets, and never in your back pocket. Don't leave your valuables laying around and when walking with a purse or a bag, tuck it into the inside of your arms and keep your hands in your pocket. 
Secure Your Home
Protecting your home and your loved ones is something that requires an investment. No matter if you're living in an apartment or a house, consider investing in a home security system. A home security system is one of the smartest ways to protect your family and calm any anxieties about potential break-ins. 
Some systems go beyond modern technology and allow you to control your lights, appliances, lock from your smartphone, receive an alert when people go in and out of the house, or check on your pets via live video surveillance feed. 
Key Takeaways 
Moving to a new city, especially a larger one, can be intimidating, but it doesn't have to be. Take time to learn about the area, meet your neighbors, and invest in proper security measures. By doing these things, you'll find yourself feeling calmer about your upcoming move to a new city. 
For more safety tips and tricks, subscribe to the
ZenLyfe blog
!